Posts Tagged 'granite'
December 12th, 2017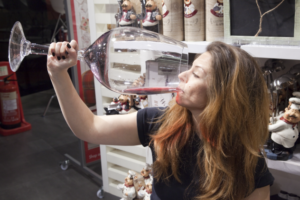 "Does wine actually have sugar?!" is a favorite question I get from clients. During this time of year when there are more celebrations and after work happy hours, it's easier to hibernate on the couch and sip wine because of the early onset of darkness. And yes, alcohol can absolutely interfere with any weight loss efforts. And during this season especially, it can add up quickly and promote an increase in body fat. Pick your indulgences wisely and on those occasions, give yourself a limit. If you want to linger with a drink in hand, opt-in for sparkling soda water with lime. And go for calorie-free mixers. At the end of the day, all alcohol counts, so sip slowly and consume water in-between drinks.
You are not alone. The average American gains 5-10 pounds over the Holiday season. If this includes you, never fear, the Personal Training team at GFSAC is here to help. Please join a team in the Biggest Chooser 2018 Competition. You will be motivated to shed those extra pounds packed on over the Holidays & held accountable on your path to a healthier, new you!!! Working in a group not for you?…We have 10 trainers on staff that are ready to push you with one on one sessions.
Psst… our GFSAC Training Gift certificates make awesome stocking stuffers. 😉 Stop by the Front Desk to purchase one.