Summer Camp
2019 GF4 Summer Camp
GF4 is short for Granite Falls Fitness, Fun, and Friends. Just like the name suggests, our half-day and full-day summer camp sessions are fitness focused. Each week campers (ages 4-11) enjoy fitness activities, special KidzFit classes, and education with friend – all centered around a fun weekly theme. Camp includes daily swim lessons and recreational swim time as well.
Click here for 2019 GF4 Summer Camp information.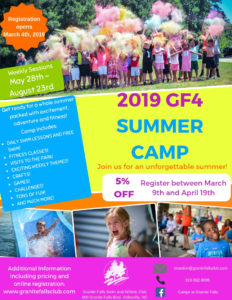 Check out our Camp Facebook Page!
Need statements or invoices for tax reimbursement or deduction purposes? Click HERE for more info.
GF4 Camp Chow Lunch & Snack Program
GF4 will offer the Camp Chow program for all 2019 Summer Camp participants. The Club's outdoor pool concession stand is excited to offer lunches and snacks by the week or by the day. Parents will be able to select full week or individual day lunch and/or snack options as they go through the camp registration process beginning Monday, March 4th.  If you are not ready to make lunch and/or snack decisions during the registration process, both can be added on up to the end of business Wednesday the week before the camp session.  Please email brandon@granitefallsclub.com for more information regarding the Camp Chow program.