We've got you "covered" at the GF Pro Shop!
May 31st, 2017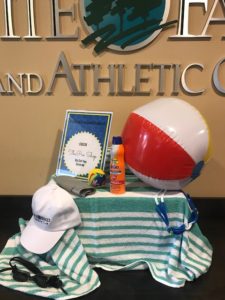 Welcome to Summer from the Granite Falls Pro Shop! What!!?? You didn't know we had a Pro Shop? Not to worry, we have your summer fun needs in stock. From competitive goggles to sunscreen and towels, we've got you covered (see what I did there?). Some of our other featured items include: swim fins, ear buds, and assorted pool toys. We even have shampoo and conditioner if you forget.
Simply stop by the front desk and our member experience team will be happy to help you. It's going to be a great summer so there's no need to stress over forgotten items. Just come to the pool and let's party! See you at the "Falls".