U.S. Paralympics Swimming 2017 Can-Am Open
December 18th, 2017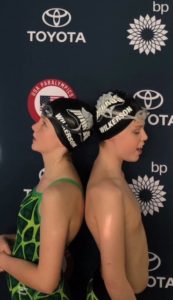 The U.S. Paralympics Swimming 2017 Can-Am Open is ​an annual paralympic swim events. The meet is ​open to swimmers with a physical or intellectual impairment from all nations meeting the qualifying standards. Th​e Can-Am Open alternates ​locations ​between Canada and the U.S.​ ​and this year it was held in Charlotte, NC on December 15-17. We were proud to have Olivia and Evan Wilkerson representing the Granite Falls Makos in the 2017 Can-Am Open.
Paralympic swimmers are classified by a sports class based on their impairment, such as limb deficiency, visual impairment, short stature or intellectual impairment. Olivia and Evan are both visually impaired swimmers and are currently classified in a S12 sports class. There are three different sport classes for visually impaired swimmers, S11, S12 and S13. Swimmers who are in an S11 sports class are almost blind or completely blind and need to swim with blackout goggles. S12 and S13 swimmers have reduced vision but are not completely blind.
Olivia and Evan competed in multiple events during the Can-Am Open this year. Olivia swam seven events in prelims and came back to swim five events in finals (400 Freestyle, 100 Freestyle, 50 Freestyle, 100 Breaststroke and 200 IM). Evan swam in four events in the morning prelims and three events in the evening finals (100 Freestyle, 50 Freestyle and 100 Backstroke). Both Olivia and Evan swam to first place finishes in all their evening finals. Olivia received five first place medals and Evan received three. Congratulations Olivia and Evan!!