Thanksgiving Unplugged
November 21st, 2017

Whether you are traveling for Thanksgiving or staying home, there is always a lot to do to get ready for the big day! With so much to do it can be easy for us to let our kids slip into a technology induced coma during all the days off from school (some schools have the entire week of Thanksgiving off) while we get the packing done, bake the pies, prepare the food, clean up from it all, plan the shopping excursions, and, maybe, enjoy a few football games. Here are some ideas for some fun things your kids (and adults) can do during this busy week that don't involve a screen.

Crafts or games that need materials purchased or rounded up in advance…

Popsicle Stick Turkeys – The Granite Falls Swim and Athletic Club track out camp Thanksgiving week campers made these in 2016 and they were ADORABLE. So many options for each child to make their own.

Thanksgiving Minute to Win it Games – When you are with a crowd, you can't go wrong with Minute to Win it Games! The silliness, simplicity, and short time for each activity are great for making memories.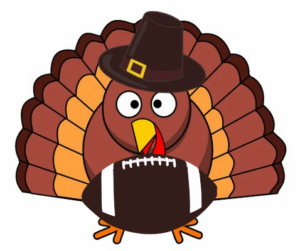 A little advanced preparation needed….
Stuff the Turkey Game – Make two and it can be a Thanksgiving day version of corn hole.
Turkey Feather Hunt – If you've got older kids, get them involved in the hiding of the feather. Large group? Take it outside and hide them like Easter Eggs. Make teams and assign colors to add a competitive element to it.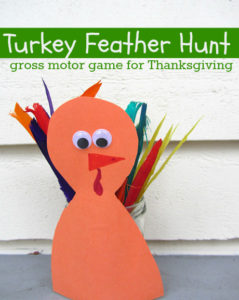 Thanksgiving Photo Booth Props – Set up an area for fun Thanksgiving photos with these Thanksgiving photo booth props and let your selfie loving tweens go to town!
Turkey Tag – #7 on this list is sure to get your family and friends moving! Hilarity abounds as you try to maneuver out of each other's way to avoid having your "feathers" taken.
Print, cut, and go….
Thanksgiving Mad Libs – Hilariously fun, unless you run into an abundance of "potty words" being used…might want to caution before playing.
Thanksgiving Bingo – Everyone loves playing Bingo! This particular one has 8 unique boards. To add a fun twist to it, use fall flavored M&M's as markers and let the winner be the first to choose a piece of pie or cake!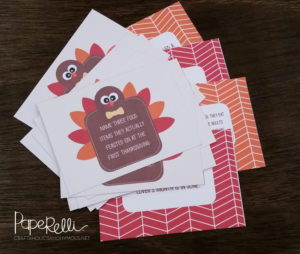 Turkey Trivia – Boys vs. Girls? Millennials vs. Gen X? So many options here!
No materials needed…

Thanksgiving Dinner – Choose and leader. The leader points to a family member and says either "MEAT," "VEGETABLE," or "FRUIT." The family member must come up with the name of something that fits the category before the leader counts to seven. No fair using a name more than once! If the family member does not respond before the leader gets to seven, he/she is out. The game continues until only one person remains. After a few rounds it can be hard to think of something that has not already been mentioned!
Whether you choose to do any of these activities or not, we wish you all a very Happy Thanksgiving and hope for time well spent with those you love.