Swim Across America 2017
June 26th, 2017

Guest Blog by Granite Falls Swim Instructor and Mudpuppies Event Director, Mary DeMilia

On June 11 at the Triangle Aquatic Center, I had the honor of being the event director for the Mudpuppies Swim Across America Event in memory of Dr Brian Goldman.

Dr Brian Goldman and I swam in the same lane for many years, and had cancer at the same time, and didn't realize it.  Despite the fact that Dr Brian Goldman passed away from colon cancer 2 years ago, his Mudpuppies team is continuing the fight to help find a cure through Swim Across America.  Swim Across America, the official charity for swimmers, exists to raise money for our network of doctors and researchers who are the pioneers developing new cures and treatments to this dreaded disease.  You can read more about Swim Across America here.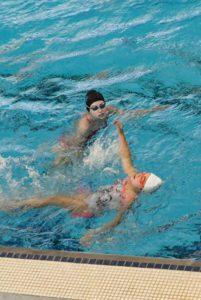 Granite Falls sent a team to this event held at the Triangle Aquatic Center.  Joseph Harrison, Tim Payne, Reagan Kaufmann, Enzo Vergnano, Mary DeMilia, Ryan DeMilia, and Michelle DeMilia all participated.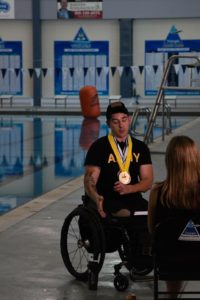 The honorary team captain was Tim Payne.  Tim Payne won the 2016 Invictus Gold Medal.  And despite losing both legs, he swam 1 mile. You can view his ESPN special here: https://vimeo.com/166823531.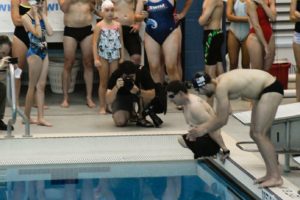 Never in my wildest dreams could I imagine what was to occur.  2016 Olympic Gold Medalist Ryan Held decided to swim in the first honorary wave with Tim Payne.  WRAL, CBS Carolina, News and Observer, and Spectrum news was there to report it.
You can watch the WRAL interview here.
Read the News and Observer interview here.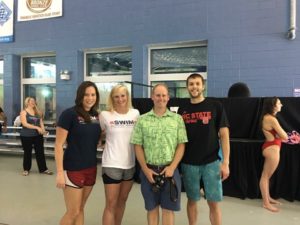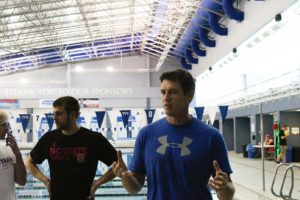 For the Olympic Clinic, Ryan Held (2016 Olympic Gold Medalist), Elaine Breeden (2008 Olympic Silver Medalist), Alex Rousseau (1992 & 1996 Olympics) and Erica Braun (world masters champion) ran the clinics for both water polo and swimming.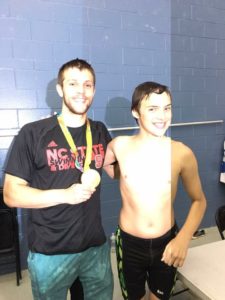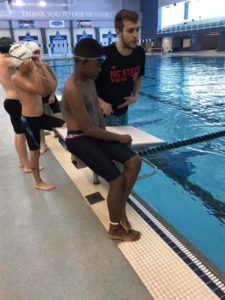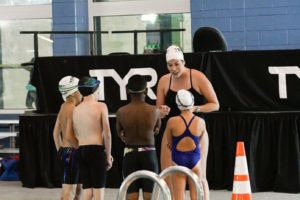 We are still accepting donations here: