Pool Season is Sneaking UP!
May 3rd, 2017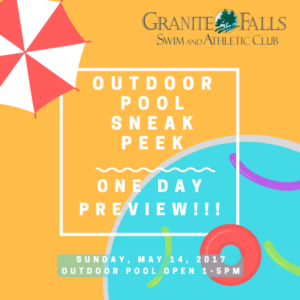 It's almost here- the time of year that we all look forward to: Pool Time!! Our official season starts Saturday, May 20th at 10am, but we hate to make you wait that long, so we're giving you an exclusive Sneak Peek on Mother's Day: Sunday, May 14th from 1-5pm!
I was hired for the 2014 summer season. I had been a member at Granite Falls for some years, so I knew things picked up during the summer, but I had no idea how awesome it would be to see the behind-the-scenes contrast of working here during the colder months and then once the outdoor pool opened. There's always lots of social interaction around class time, in the indoor pool, and on the fitness floor, but now it continued well after the fitness activities were finished. I love seeing families hanging out with their kids and friends well into the evening- finally, exiting the back gate with happy (and tired) kids trailing behind. I love seeing grandparents taking a break by the pool with a good book. I love seeing members spend an hour just floating around the lazy river. It's a time of fun, excitement, and relaxation.
Come join us for what is sure to be the start of a great season!
Jenny
Membership Director