October Employee of the Month – Sarah Roskilly
October 17th, 2018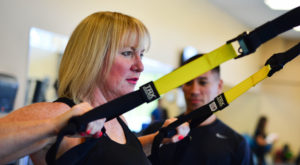 Sarah Roskilly has seen it all at Granite Falls. "My role at GF has progressed over the past seven years from member to group fitness instructor to personal trainer," she said. That seven-year journey began with the Roskilly family – husband Paul with children Charlotte and Mike – relocating here to Rolesville. Now as a valuable and integrated fitness team member, Sarah has earned the designation of Granite Falls Swim and Athletic Club Employee of the Month for October.
Sarah's growth as a trainer is evident by her accomplishments. Her team won the annual "Biggest Chooser" weight loss challenge on her first try. She subsequently created and implemented her own group training programs "Foundations of Fitness" and "Headstart Advantage Wellness" which encourages clients to "tidy up their eating habits and exercise more."
Sarah quotes Joshua Welch when verbalizing her training philosophy. "Wellness is a connection of paths: knowledge and action," she relates. Sarah summed up her formula for success with this thought, "I will always be grateful to Granite Falls for giving me many fabulous friends and a challenging job which is so enjoyable and rewarding." Sarah, we are grateful to have such an outstanding fitness personality on our team. Congratulations once again on being named the Granite Falls Swim and Athletic Club Employee of the Month.