Meet Y'all at the Watering Hole
July 11th, 2017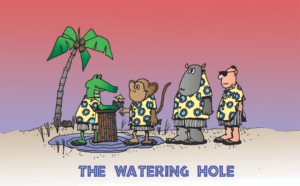 In 2010, Jacky Wilson and Mike Tucker had a great idea:  open the first pool-side bar in Rolesville . 7 years later, The Watering Hole is a hugely popular feature of our outdoor pool amenities.
The Watering Hole has a ton of options including 10 total beers on tap (6 more than 2016) including 8 craft beers and 2 domestics.
If you're not a beer fan, we have a bunch of mixed drink options with tonic, soda, cranberry juice, orange juice, and bloody mary mixers (plus lime and salt for your margaritas!) If you want to upgrade with a top shelf liquor, check out Patron Silver Tequila, Hornitos Lime Tequila, Crown Royal Whiskey, and Goose Vodka.
In addition, we have 4 frozen drink options: strawberry daiquiri, lime margarita, pina coloda, and sangria (BONUS- these are not pre-mixed with alcohol, so you get to pick your mixer or we can serve it as a non-alcoholic smoothie for adults and kids.)
Watching your carbs? Check out Simply Seltzer- available in 2 flavors, light on calories and even lighter on carbs.
To top it all off, we will have a total of 9 Sunday afternoon beer tastings. Come sample a wide array of craft beer options and then buy a cup of your favorite brew.
Your friendly neighborhood bartenders, Angie, Matt, and Michelle, look forward to serving you Friday-Sunday, so come join us at the best (and still only!) pool-side bar in Rolesville!