Meet Our New Group Fitness Instructor – Betsy Moore
December 5th, 2018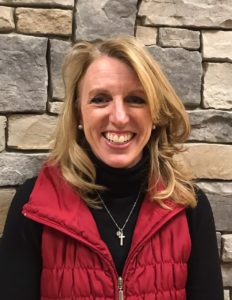 For over 8 years, Betsy Moore has been a familiar face at Granite Falls Athletic Club.  She has been a participant in a variety of classes and we are excited to be able to announce that she will now joining the team as an instructor!  Betsy will be teaching cycling and several other classes beginning in December.  She is very excited about this new journey.
Betsy has always been an exercise enthusiast by running and attending both cardio and muscle fitness classes here at Granite Falls.  She thrives on working with others and getting energy from group instruction.  She states that, "being able for her to share this joy as an instructor is a natural progression".
Betsy is also an elementary school teacher working with students in grades K-5.  She loves her job and working with kids as every day is exciting and new.  Adding the role of fitness instructor helps her be a role model for her students and demonstrate what it means to have a healthy, active lifestyle.
In Betsy's spare time, she loves spending time with her son, Wilson, and cheering him on in a variety of sports.  She is also very active in her church as a youth advocate and member of both the handbell and chancel choir.  Betsy is a North Carolina native and comes from a big family.  If she is not cheering on her East Carolina Pirates, she is watching  other hometown teams, whether it be football or basketball.  You can also find her spending time with her extended family, as well.
Be sure to welcome Betsy in her new role as you see her in the club, and be sure to attend some of her classes!