July Employee of the Month – Janice Hirsch
July 24th, 2019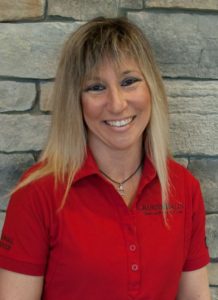 Personal trainers often have a unique perspective on life and how to live it successfully. "Life starts at the end of your comfort zone", says July's Granite Falls Swim and Athletic Club Employee of the Month – Janice Hirsch." When we workout, it is hard to push ourselves outside of our comfort. As a coach/trainer, if we don't push…we can't reap the benefits that it (the workout) creates." With this straight forward results oriented approach, it's no wonder Janice has laid claim to being one of the most effective trainers in the Granite Falls family.
Married to a "very supportive" husband with two teenage daughters, Janice has been a trainer here at the Falls since our doors opened in 2009. She loves to swim, bike, and run and has competed in three ironman competitions as well as the National Age Group Triathlon.
Translating her passion into reality, Janice has created and coached the well-known Granite Falls run programs, including Adult and Kids Run Club as well as the Triathlon and now the Kids Triathlon Clubs.
A recent graduate of Nash Community College with a degree in applied science Physical Therapy Assistant, Janice is comfortable training all levels of ability and all age groups. She just doesn't let her clients get too comfortable!
Janice sums her 10-year run at the Falls this way. "I am grateful to the members and employees at Granite Falls for making work fun and making it feel like a very large family."
Janice, we are grateful for you, our Granite Falls Swim and Athletic Club Employee of the Month.