It's great to be a KID at Granite Falls!
February 21st, 2017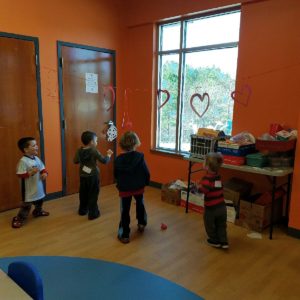 Smiling faces, lots of laughter, and epic video game contests!  All of these things, and so much more, can be found daily in the KidZone.  The KidZone team is fortunate to be able to hang out with some of the coolest kids around – our members' kids.  We are blessed to get to spend hours upon hours with them, watching many of them grow from babies to preschoolers and all the way to elementary aged kids.  The fortunate part about spending so many hours together is forming strong connections with the kids and watching them connect and build friendships with each other.  This year we have decided to add a couple of extra things to the KidZone experience in order to help deepen those connections among the kids and, by extension, their parents.  While we have always provided crafts and fun experiences for the kids, each month we are having specialty days where we have just a little more fun, add just a bit more to our games, and promote an exciting KidZone day for the kids to look forward to.  So far we have had an Indoor Snowball Fight in January and a Valentine's Day party in February.  We are next looking forward to our Wearin' of the Green Day on St. Patrick's Day, Friday, March 17.  Each of these special days are advertised at the KidZone check in station, just outside the KidZone door where the names of the KidZone staff on duty are listed, and highlighted on social media as well as weekly email updates.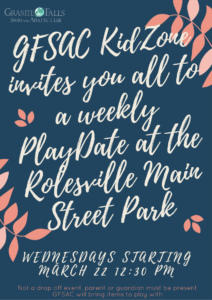 One of the other initiatives we are starting this Spring is a KidZone sponsored Play Date at the Rolesville Main Street Park.  Beginning on Wednesday March 22nd and going forward each Wednesday until the outdoor pool opens, the Youth Programs Director, Susan Bayer, and/or another KidZone staff member hopes to hang out with your kids and you at the park.  You do not have to be currently using KidZone to join us.  All are welcome!  We'll bring fun items for the kids to play with – chalk, bubbles, jump ropes, etc. – and all you have to bring are your kids!  This will be an opportunity for your kids to hang out with their KidZone friends outside of our four walls, for parents to get to meet their kids' KidZone friends, and for you all to get to know any KidZone staff who are present a little bit more.  Please note, this is not a drop off event.  The KidZone is simply sponsoring and being a point person.  A parent/guardian must be present.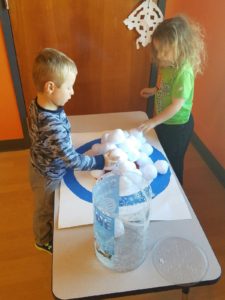 We hope you enjoy all of the new things we have in place for our youngest members!