Granite Falls Run Club Races at the Celebrate Your Mother 5K
May 16th, 2019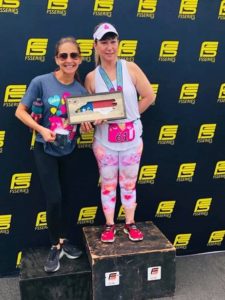 One of the "hidden gems" of the Granite Falls Swim and Athletic Club program offerings are the impressive run clubs. Spearheaded by long-time coach Janice Hirsch, the Granite Falls runners take a back seat to no one. From beginner to accomplished competitor, there is a place for everyone who desires fun, motivation, and social interaction.
Among the offerings here at the club are: The Run Club, Coach to 5K, and Kid's Run Club. This past weekend, our youth team participated in the "Celebrate Your Mother 5K" held in Wake Forest. Not only did the team run with great result (see below), they came away with an award plaque for the Largest Registered Group.
8 yrs old and under
Female – Rylie Cibella 2nd place
Male – Torben Atwater 1st place
Ethan Walker 3rd place
9-11 yrs old
Female – Maree Perfitt 3rd place
Male – Zaden Perfitt 1st place
Owen Dembouski 2nd place
Scott Jones 3rd place
15-19 yrs old
Female –  Danielle Hirsch 1st place
50 -59 yrs old
Female –  Beth Pursley 1st place
Congratulations to Coach Hirsch and this great group of young runners (including Miss Beth!). You make all of here at the Falls proud!