GF4 Summer Camp – saving parents from "I'm Bored" every single day
April 25th, 2017

WCPSS traditional calendar students get out of school on June 9 and don't return until August 28 — 11 whole weeks off from the routine and structure of school.  Preschoolers typically get out even earlier than that, leaving active 4 and young 5 year olds with a solid 12-13 weeks off from their weekly habits.

If you haven't already thought about it, now is the time to seriously begin thinking about what all your kid is going to do this summer.  Unstructured play is incredibly high on the list of things that should happen in the summer but the world we live in and/or the restrictions put in place by the demands of adult life make that a less viable option.  That's where the Camps at Granite Falls Swim and Athletic Club, particularly our GF4 Summer Camp, come in to help!

GF4 is short for Granite Falls Fitness, Fun and Friends, and just like the name suggests, our half-day and full-day summer camp sessions will be fitness, fun, and friendship focused.  Each week campers will enjoy a variety of fitness experiences, including special exercise classes such as Zumba Kids, KidzYoga, and KidzFit, and activities with friends – all centered around a fun weekly theme.  Every day will include swim lessons and recreational swim time as well!  At Granite Falls, we understand the need to let loose and have fun in the summer.  We enjoy getting messy, breaking into dance, crafting it up, and splashing as much as we can in our various pools.  The best of friendships are made at camp where campers feel relaxed, at ease, and able to let their genuine self out.  Campers can't wait to come back and see their camp friends, especially those in year round schools who get the opportunity to come back to camp each season.  All of our counselors can tell you that camp friends often become BEST friends.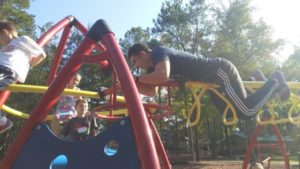 In fact, it is those friendships and the special, magical world of summer camp that brought one of longtime favorites, Mr. Gabe, back for his sixth camp season at GF4 Summer Camp.  He decided to enjoy one last summer with some of his favorite kids before starting his senior year at UNC this fall.  We are beyond lucky to have him with us once again.
GF4 half-day and full-day summer camps are for members and non-members ages 4 – 11. However, four year olds may only attend the half-day camps.  Register today and let us help your kids make fantastic memories this summer!