Get a BITE at The Shark Shack!
June 7th, 2017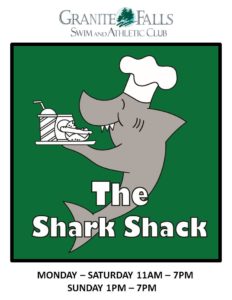 Picture this- you're at the pool and you're hungry. Do you start nibbling on your child's Goldfish crackers OR, wouldn't you much rather munch on a large pretzel covered in cinnamon and sugar?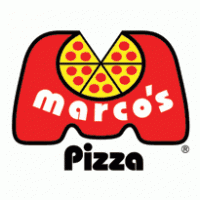 Pretzels not your thing? How about a salad covered in your favorite veggies and meat from Marco's? Or wouldn't a delicious ice cream sandwich be the highlight of the night after 5 hours of fun in the sun?
Our pool-side bar, The Watering Hole, is open during the weekend, but it's Thursday and you would love a cup of wine or a cold beer. Don't worry, The Shark Shack has you covered!
And, have you see those 30oz blue tumblers around the club? The one featuring our Granite Falls logo? A new edition to our Shark Shack line-up, the Granite Falls tumbler looks awesome, keeps your drinks cold, and saves you money on fountain drink refills!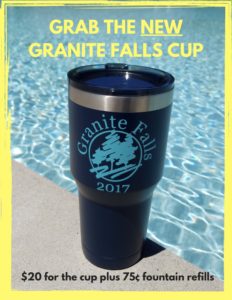 There's so much The Shark Shack has to offer and it's steps away from your favorite chair at the Granite Falls pool. Come check us out and let us make your day even better!
Our full menu can be found HERE!