FUN + FRIENDS + FITNESS + FRESH AIR = KIDS' RUN CLUB @ GFSAC
May 10th, 2017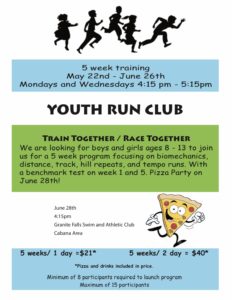 Most of us know that kids are supposed to get at least 60 minutes of physical activity a day. And 1 hour spent being active sounds like a pretty easy goal, doesn't it?
But as kids get older, increasing demands on their time can make getting that hour of exercise a challenge. Also, some kids get caught up in sedentary pursuits like watching TV, playing video games, and surfing the Internet. Even doing a lot of studying and reading, while important, can add to a lack of physical activity.
So how do you get kids motivated to be active, especially those who aren't natural athletes?
When kids find an activity that's fun, they'll do it a lot, get better at it, feel accomplished, and want to do it even more. Likewise, if they're pushed into activities they don't like, they're unlikely to want to participate and will end up frustrated and will feel like exercising is a chore.
Granite Falls is here to help. Our Kids Run club provides an opportunity for kids to get fit & have fun.
Please click here to find out more!!!!