November Employee of the Month – Michael O'Reilly
November 8th, 2018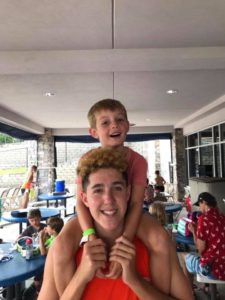 This month's Granite Falls Swim and Athletic Club Employee of the Month is a true home-grown talent. Rolesville High student Michael O'Reilly "came up through the ranks" by serving in our Junior Counselor Program for four years before becoming a full-fledged counselor and Kid Zone associate.
By participating in the Junior Counselor program, Michael developed the skills and maturity to become a valuable member of the Youth Programs team. Youth Programs Director Brandon Metzel said, "Michael has grown in the Junior Counselor Program and proven to be a dependable asset to the team. He has also developed significant leadership skills in his time with us."
An avid football fan (Fly Eagles Fly), Michael quotes legendary coach Vince Lombardi when asked to give his approach to life, "The only place success comes before work is in the dictionary".
As for the future, Michael is gearing up for a great year and summer here at the Falls. He also hopes to attend Appalachian State upon graduating from High School. Until then it's all systems go for this up and coming talent. Please join me in congratulating Michael O'Reilly as this month's Employee of the Month.
Please join us in congratulating our Employee of the Month: Michael O'Reilly!