Don't be THAT Parent
January 23rd, 2018

You've started off the New Year with a bang when it comes to your workouts. You're sticking to a schedule and showing up. You're making progress…seeing old clothes fit again, watching the number on the scale drop, feeling energetic and able to keep up with your kids…speaking of kids…there goes a sneeze…wait for it…nose being  blown…aaaaannnnnddddd…

"MOM!  I don't feel so good!" OH NO! Panic sets in as you realize you won't be able to go to the gym because your child has to go to the KidZone while you work out and you can't possibly bring him since he is sick. But, wait, you think, is he really that sick…it's only an hour…he'll be fine…right?

OK, PAUSE.

Don't be THAT parent. You know the one. The one who forgets to think about how quickly germs can spread to other kids, not to mention staff, from shared toys, shared spaces, and shared bodily fluids. (Don't get all grossed out.  I'm only, mostly, talking about sneezes, noses wiped on arms, fingers and toys in mouth type of shared bodily fluids.) Your workout can wait or you can be creative and try an at-home workout (Google is your best friend for this).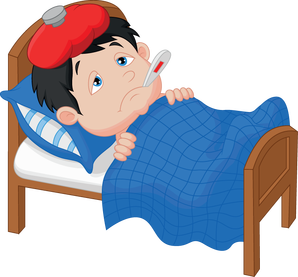 In case you are unsure, here is an excerpt from the KidZone Parent Manual to guide in you in your "should I bring my child to the KidZone when sick" decision. Please decide wisely.
When should I keep my child at home?
Please be sure to use good judgment if your child is demonstrating any signs of sickness. We want to keep our other children and staff healthy. Please do not bring your child if he/she are exhibiting signs of the following as you will be asked to take him/her home for the best interest of all parties:
A fever at or over 100.0 degrees F within the last 24 hours
A continuous runny nose or cough that is not allergy related
Diarrhea or vomiting within the last 24 hours
Undiagnosed skin rashes, sores or other conditions
Sore throat
Any other contagious symptoms within the last 24 hours