December Employee of the Month – Angie Newsom
December 20th, 2018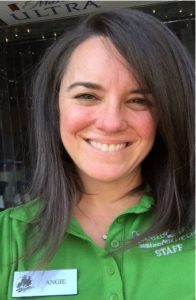 Granite Falls Swim and Athletic Club is excited to announce our newest Employee of the Month:
Versatility is a characteristic of the resourceful. In any given operation, this trait is valued at the highest level. Competent people handling a myriad of duties leads to productivity and success. Please meet Angie Newsom, Granite Falls Swim and Athletic jack of all trades and employee of the month.
Angie is a veteran on the Member Experience team, handling members, guests and all club functions. In addition to her regular duties, Angie is responsible for all aspects of the club's thriving birthday party program. Angie's expertise doesn't end there however, as you can find her poolside in the summer manning the popular Watering Hole. Finally, Angie acted as the assistant coordinator for the annual Sip N Shop event this year, bringing local businesses and shoppers together for a fun and profitable evening.
When she is not at the club Angie and her husband Gary are taking their 11-year-old daughter on camping trips all over the state. With a true spirit of adventure, she says," We love to experience new places and spend time outside with family and friends."
Angie sums up her formula for success thusly, "The happiest people don't have the best of everything, they just make the best of everything." Please join me in congratulating employee of the month, Angie Newsom.