Counselor Spotlight: The O'Reilly Twins
May 23rd, 2019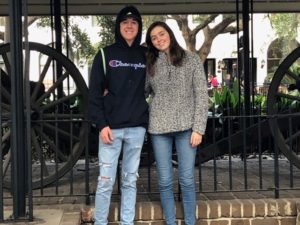 Meet the O'Reilly twins and see what they have been up this year and why they are excited to be back this summer for our 2019 Summer Camp
Madeline O'Reilly
What has she been up to since summer camp ended last year?
Madeline is a junior at Wake Early College of Health Sciences and has been doing her fair share of volunteer work as well. She volunteers as a Guest Ambassador at Wake Med, she also volunteers for Habitat for Humanity, American Red Cross. On top of her volunteer work she is also the member of a couple of school clubs; Madeline is the Vice President of HOSA which is an international student organization recognized by the U.S. Department of Education and the Health Science Education (HSE) Division of ACTE. In addition to being the VP of HOSA at her school, she is also the VP of Student Government.
What is Madeline's favorite part of camp and why is she excited for this summer?
Madeline loves to watch the campers grow up through the summer and throughout the year as she is a KidZone shift leader during the off season from summer. She "literally" loves everything about summer camp and working closely with the campers.
Favorite Camp Song: Reese's Peanut Butter Cup and Herman the Worm
Favorite Camp Theme: Color Wars
Hobbies: Soccer, school clubs, and Granite Falls
Career/life Goals: Medical school and eventually Emergency Medicine

Michael O'Reilly

What has Michael been up to this year?
Like his twin sister Michael does plenty of volunteer work and is also a member of clubs at his school. He is a junior at Rolesville High School and is a member of FFA (Future Farmers of America) and Key Club. He also volunteers for Habitat for Humanity in his free time. During the off-season from summer camp you can also find Michael working in the KidZone.
What is his favorite part of camp?
Michael is a big fan of the atmosphere and the energy the kids bring to camp every day. His main goal for summer camp is to give the campers the best summer they could ever have while making them laugh and smile. He also strives to make a positive impact and be a positive role model for the campers.
Favorite Camp Song: Tarzan
Favorite Camp Theme: Color Wars
Fun Fact: He likes to catch big fish
Career/life Goals: Michael's lifelong dream has been to become a firefighter. He states that if firefighting does not work, he would aim to be an astronaut, police officer, a spy, or a teacher.