Come out to our Poolside Benefit Bash this Friday!
June 20th, 2017

This Friday, June 23rd, we will be hosting a charity event from 5-8 pm benefiting head camp counselor Gabe Gonzalez's fundraising goal for Camp Kesem. At the event, we will have a poolside DJ, Jam ice cream truck, and hot dogs and burger plates for sale with all proceeds benefiting Camp Kesem.  Additionally, camp counselors and other staff will be leading games, crafts, and activities to make it a fun-filled evening for all. We will also be selling raffle tickets, $5 for one or 6 for $25 for a host of amazing prizes such as a FREE week of camp, night of PNO, private swim lesson, birthday party, personal training with our fitness director, and much more!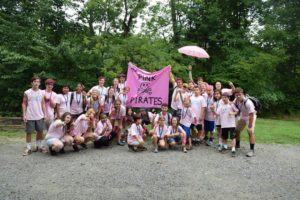 Camp Kesem is a non-profit organization that gives kids whose parents have or have had cancer a chance to attend a week long overnight camp and get a break from their oftentimes very tough home-life situations. At camp, the campers engage in a host of classic camp activities such as archery, boating, rock climbing, and of course s'mores and campfires. Camp Kesem gives these kids a chance to be linked with others going through a similar situation to form a community of love and support.
Camp Kesem is run entirely by student volunteers and as a counselor, it is their responsibility to raise at least $500, which keeps the cost of the campers to attend camp free. This will be Gabe's second summer volunteering as a counselor with Camp Kesem UNC-Chapel Hill. Please come out for a fun-filled evening this Friday, June 23rd from 5 – 8 pm and support Gabe.  Raffle tickets can be bought at the event or at the front desk or you can donate directly to his fundraising page.
 Thank you for all your support!