'General'
April 5th, 2017
"Julia" came in to the club the other day on a whim. She hadn't been here before, but has some friends that are members and had heard great things. She is a former sports enthusiast and has gone from rocking Bootcamp classes to having trouble maneuvering stairs. "Julia" is looking for a restart and she knows that this is the place that will get her there.
"John and Nancy" are a younger couple with two kids- a 3 year old and a 6 month old. They love swimming year-round and know that the kids are going to love the outdoor pool once that opens on May 20th. They are friends with a long-time Granite Falls employee and had only heard great things about the club. They toured the club and came back in the next night to sign-up!
"Sam" is a former member and now retired. He wants to get back into a fitness routine and wants to include his wife in the process. He was thrilled to be getting back told his old Granite Falls stomping ground.
Everyone walks through our doors for different reasons- the thing that I LOVE though, is that everyone leaves with a smile on their face. They know that they've made a decision that will benefit themselves and their family. They know that they will see old friends and make new ones. They know, if they go forward with the right mindset, they will see results…they will hit their goals (mini ones and the BIG ones!)
Thank you to everyone who given us a chance to prove that we can help you become a better you. I've experienced this for myself and, if you haven't experienced it yet, I would like to personally invite you to walk through our doors…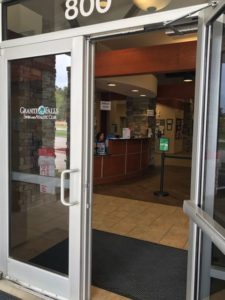 March 7th, 2017
So, a few months ago we had a vision. Our quarterly catalogue was tired and needed a little love. It served its purpose, but no longer filled me with excitement when it was time to put it together. And, one thing that I've always loved about this job is how, pretty much every day, I get excited about something I do. After putting our heads together (and our amazing photographer, Victoria Walcott, putting her camera talents to great use), we came up with something wonderful.
To say that we're thrilled with the result is an understatement. We're still tweaking some stuff, but I truly feel like now we are showcasing the amazing facility we have outside of the gym just as well as we do once you come through the doors. Please send me feedback  and I can't wait to see who makes the cover of our April issue (March features long-time member, Tammy Alexander, taking a well-deserved pause in Masters Swim.)
February 6th, 2017
We struggle. We climb. We fall. We find solace in a friend…or friends. And it's all part of the journey.
I started working at Granite Falls in May 2014- my best friend, Erin, had recently started her part-time job here and it seemed like the perfect addition to my stay-at-home mom lifestyle. Just a few hours they said…you'll love it they said. Oh, wow, were they ever right! (Well, except for the few hours thing…)
As a member, I loved the smiles, the companionship, the sense of family. As an employee, I love this facility for the same three reasons. And the fact that my feelings didn't change with my title says a lot about this big business in a small town.
When I look around and see the individuals and the families that have made Granite Falls a part of their life, their journey, I see the same three things again- smiles, companionship, and family. And, I want to capture that spirit, that look, and share it with as many people as we can.
So, we got the idea for a photo album- a family scrapbook to show off to our friends here at Granite Falls and to locals who haven't yet decided to join us. To show that we are truly doing something amazing here- not just the facility, but the people in it.
If you have a story you would like to tell OR know someone else who does, please email me at jenny@granitefallsclub.com. And, as always, thank YOU for letting us be a part of that story.