'Aquatics'
March 29th, 2017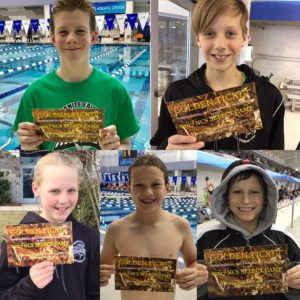 Five Makos swimmers received the Golden Ticket to North Carolina Swimming Select Camp! In order to be selected for Select Camp, swimmers must achieve a top 5 finish in the state at either NCS Age Group Championships or ESSZ Age group Sectionals meets.
At NCS Age Group Championships, held February 23rd-26th, Greyson Young placed 3rd in the 200 Yard Freestyle to secure his Golden Ticket. March 16th-19th, at ESSZ Age Group Sectionals, the other four Makos received their Golden Ticket. CJ Eickhoff swam the 500 Freestyle with a 1st place finish in the state. Michael Keleher had two 3rd place finishes in both the 1000 Freestyle and 1650 Freestyle. David Walcott swam the 1650 Freestyle and finished 2nd. Julia Turner swam her way to a 4th place finish in the 500 Freestyle. Go Makos!  
Picture (Left to Right – Top to Bottom: Michael Keleher, David Walcott, Julia Turner, Greyson Young and CJ Eickhoff)
February 15th, 2017
Congratulations to our Granite Falls Makos who made North Carolina Age Group and Senior Swimming Championships!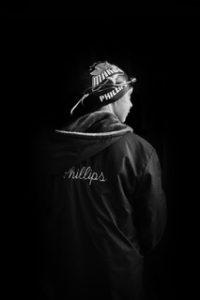 We have 27 Makos swimmers competing in over 100 individual and relay events over the next two weeks.  Our Championship team is lead by Team Captains Hunter Young & Emma Denton with fellow swimmers Caiden Ames, Tate Bacon, MaKayla Ciancanelli, Austen Davis, Brooke Denton, Bridget Derwin, Nate Derwin, CJ Eickhoff, Danielle Hirsch, Michael Keleher, Kylie McGlade, True Merrill, Lily Mitchell, Kathryn Monville, Riley O'Brien, Emilie Phillips, Caroline Prather, David Quaresma, Avery Thomas, Julia Turner, Avalon Uveges, Jadon Valles, Ben Walcott, David Walcott and Greyson Young.  Good luck to all our Makos swimmers in the Championship Meets.  Go Makos!