September 19th, 2018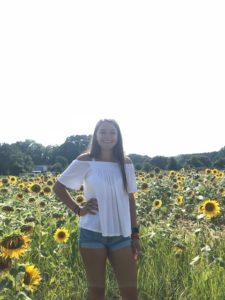 Kaitlyn Palmateer has the perfect mindset for a lifeguard. "It's better to be safe than sorry is a saying that I live by," she exclaims. "I follow this both in school and while guarding," she said. "I always tell myself this because I don't want to fail". With this attitude and determination, it's no wonder Kaitlyn is this month's Granite Falls Swim and Athletic Club employee of the month.
A junior at Heritage High School, Kaitlyn has become an integral part of the guard team here at the Falls. She said, "I always try and work as much as I can, even the weekends. I come in early for my shifts so I can help out the managers or if more guards are needed."  Diligence and extra effort are the hallmark traits of this third-year guard.
When she is not here at the club, Kaitlyn is dancing. "I have been a competitive dancer now for seven years," she said. "At dance I also work as a teacher assistant for little girls and boys ages three to five years old." At school Kaitlyn participates in club activities and the Honor Society.
Please join us in congratulating our Employee of the Month: Kaitlyn Palmateer.