Biggest Chooser Update – Week Seven
March 14th, 2019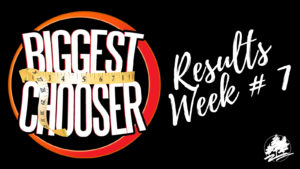 As week seven rolls past I thought it would be instructive, if not humorous, to compare the impressive total collective weight loss (1,358 pounds) to … well, things.
Did you know … that the average weight of the adult male Polar Bear is 1300 pounds?
Did you know – that the heavy-duty Steinway Grand Piano weighs nearly 1,000 pounds, which begs the question: How much does a Stein weigh?
Did you know … that the adult Gaur can weigh between 1300 and 2000 pounds which leads us to the question: What on earth is a Gaur? Turns out it is a wild ox indigenous to India and Malaysia (who knew?).
And while our total is indeed noteworthy, we have a long way to go before we reach the weight of the tongue of the mighty Blue Whale – estimated at 6000 pounds! The tongue! Does that amaze anyone else?
Anyway (weigh), keep up the great work and who knows what we can pass next week. Here are your updated standings:
Yellow – 7.51%
Charcoal – 6.98%
Tan – 6.87%
Kelly Green – 6.55%
Orange – 6.31%
Turquoise – 5.16%
Olive Green – 5.06%
Crimson – 4.65%
Black – 4.37%
Navy Blue – 4.06%
Steel Blue – 3.95%
Contest Wide
5.66% and 1,357.80 LBS