Biggest Chooser Update – Week Five
February 28th, 2019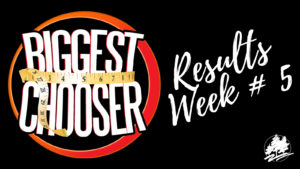 The Top Three Weight Loss Myths
Losing weight involves discipline and hard work
Suffering through grueling workouts and joyless, bland diets has been the traditional way to achieve results. Now with modern technology and advanced analytics, you can reach your weight loss goals with grueling workouts and joyless, bland diets. Please don't tell anyone.
Losing weight will lead to happiness and a better quality of life.
While losing weight certainly contributes to overall improvement of one's health, there is no data to suggest that looking and feeling better actually helps anyone. Wait, what?
It is easier for men to lose weight than women.
Let's debunk this myth right now. It is clearly easier for women to lose weight than men because women obviously are able to understand and follow instructions while men often chime in with gems like, "This is a weight loss program? I thought we were meeting to work on our NCAA brackets."
Here are your numbers for the week. Impressive  – keep going!
 1st – Charcoal – 6.18%
2nd – Yellow – 5.80%
3rd – Tan – 5.28%
4th – Orange – 5.22%
5th – Kelly Green – 4.97%
6th – Crimson – 4.48%
7th – Turquoise – 4.21%
8th – Olive – 3.95%
9th – Black – 3.88%
10th – Steel Blue – 3.60%
11th – Navy Blue – 3.36%
Total Percent Lost: 4.70%
Total LBS Lost: 1,128.40