BIGGEST CHOOSER FINALE'
April 12th, 2019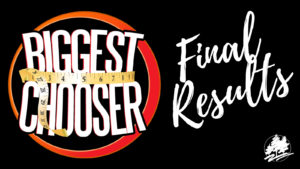 A raucous crowd of over 50 participants, friends and instructors celebrated the conclusion of the 2019 Granite Falls Swim and Athletic Club Biggest Chooser campaign.
"We had 11 teams, but really we were all on the same team", Fitness Director Jeremy Buchholz declared as he kicked off the awards program. He then asked the group, "Show of hands who thought the12 weeks of hard work were worth it." Every participant readily agreed!
Overall the group the group of 100 plus participants lost 7.43% of their starting body weight. That translates into nearly 1800 pounds lost! In addition, 30 individuals lost more than 10% of their beginning body weight with Todd Robinson leading the way with an astonishing 19.8% loss.
This year's winner was Team Yellow captained by Shannon Whalen as they outpaced second place Team Charcoal 10.92% to 10.64%. "At our first meeting my team told me they were – in it to win it, "Whalen recalled. "And they weren't kidding – they did it!"
Whalen went on to identify determination and dedication as the keys to the winning formula. "I wanted to keep them motivated," she said. "I was on their (butts). After we lost focus one week, we had a meeting and the team rallied."
With the win, each team member received a personally embroidered backpack, a championship medal and a supply of Granite Falls goodies. Director Buchholz summed up the success this way. "My biggest takeaway is that diet and exercise has changed the way they feel," he explained. "My hope is that they keep the habits they have developed over the past 12 weeks.
Congratulations to Team Yellow and all of this year's participants. They truly have all won as the lost!