August Employee of the Month – Bailey Hellman
August 14th, 2019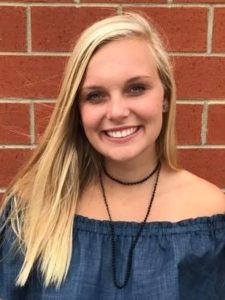 Although Bailey Hellman is still an undergraduate at East Carolina University, she has already carved out an impressive start to her professional career. "For my first three years at Granite Falls," she said. "I was a lifeguard throughout the summer. I started teaching swim lessons and for the last two years I have worked in youth programs." As an aspiring health fitness specialist, Bailey has certainly filled her resume with outstanding credentials.
A key member of this year's dedicated camp staff, Bailey sites a pop culture reference when asked for a description of her work ethic. "If you're not first you're last," she said with a wry smile. There is no question that her competitiveness has elevated the summer camp program this year. Bailey keeps this part of her game sharp by swimming for the ECU club team.
With special employees like Bailey, it's no wonder that the camp program at Granite Falls has been nominated for this year's Best of the Best award. Please join me in congratulating this month's Employee of the Month – Bailey Hellman.
Please join us in congratulating Bailey on this honor, and in thanking her for her contributions to Granite Falls Swim and Athletic Club.