Certification Classes
Lifeguard Certification Course
Interested in a great summer job or challenging career as a professional lifeguard?  The lifeguard certification provides lifeguard participants 15 years of age or above with the knowledge and skills to prevent, recognize and respond to aquatic emergencies and to provide care for breathing and cardiac emergencies, injuries and sudden illnesses until emergency medical services (EMS) personnel take over.  Successful completion of the course results in a 2-year certification in lifeguarding, first aid, CPR and AED.
We offer Lifeguard Certification at varying times throughout the first half of the year.  We expect to add new courses to the schedule beginning in January 2017, in time for the upcoming season.  Please check back regularly for new courses.
There is a $35 non-refundable registration fee.  The remainder of the cost is due the first evening of the class, upon successful completion of a pre-test.  Please review the flyer for details.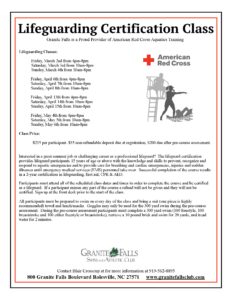 Sign-up using our Online Services (OLS)
Lifeguard Recertification Course
Lifeguard Recertification Class provides currently certified lifeguards the opportunity to review the Red Cross Lifeguard course materials and skills to renew their certification.