Biggest Chooser Update – Week Two
February 6th, 2019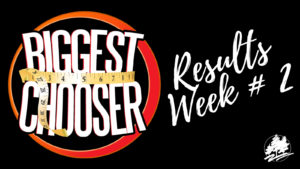 BIGGEST CHOOSER WEEK TWO POWER RANKINGS
Now that the boring football game just played (I can't remember what they call it) and the season are over, we can all turn to the real national pastime – Granite Falls Biggest Chooser competition. We definitely had some movement in this week's rankings and I'm not just talking about the workouts. So far 722 pounds have been lost (please don't bother to look for them).
Here are your current power rankings (based on whim and agitation)
Yellow – Captained by Shannon Whalen, the Yellow team fell to number two in the standing this week, but I kept them in the number one spot just to aggravate coach Phillip.
Charcoal – Charcoal? Really? That's the best color you could come up with? Charcoal? Anyway, Coach Williams did vault into the top spot in the standings this week, signaling they are back and are a force to be reckoned with – but charcoal?
Orange – Now that's a color! Bright, energetic, rhymes with … oh never mind. Coach Aubrey's team is always on point and look to be in a solid position to contend for the title.
Kelly Green – I wanted to put this team first because, well let's face it Kelly Green is the color of the Eagles' awesome throw-back jerseys. Nonetheless, Team Danae is on the move and should be a factor come April.
Sand – Sand!? Don't get me started. Coach Josh may be color blind, we're not sure. I do know that this team is motivated and have been promised a trip to the beach if they win to see some … sand.
Best of the Rest – remember it is very early and last year's winner came from dead last to take it all:
Navy Blue, Olive Green, Crimson, Black, Steel Blue, Turquoise
(Now those are colors!)