$38,000 Raised for MAC!
September 12th, 2017

Guest Blog by Mercy for America's Children Board Officer, Traci O'Rourke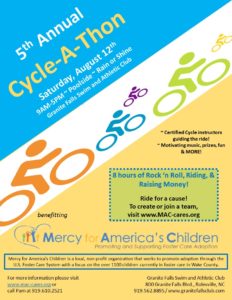 5th Annual Cycle-A-Thon Fundraiser Brings In Over $38,000 In Donations.
Mercy for America's Children raised just over 38K at the 5th Annual Cycle-A-Thon fundraiser held August 12th at Granite Falls Swim and Athletic Club in Rolesville, NC. With teams riding stationary bikes for 8 straight hours to raise awareness for children and families in local foster care, the event is the largest fundraiser to date benefiting the organization.
Proceeds from the event go to sustaining support services, including groups addressing behavioral, academic, and kids' needs. In addition, money raised helps the organization focus on its main goal of connecting children in foster care with adoptive families.
Sponsors for this year's event included: Timothy Creech, DDS, Family Dentistry, Granite Falls Swim and Athletic Club, Spoke Cycles, Fisher Hardwood Flooring, Intrinsic Motion, Run-N-Tri Outfitters, Walker Napa Auto & Truck, and Mighty Oak Massage.
About Mercy for America's Children: We are a North Carolina based non-profit organization advocating on behalf of children awaiting adoption in the US Foster Care System by educating the public about the benefits of foster care adoption, reforming the adoption process, connecting waiting children to potential adoptive families and supporting them through their adoption journey.
Contact:
Mercy for America's Children
231 Kinvara Court
Wake Forest, NC 27587
Telephone: 919.610.2521
E-mail: info@mac-cares.org