Archive for January, 2018
January 9th, 2018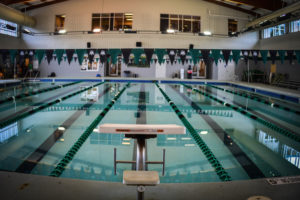 So you're headed to Granite Falls for yet another workout that includes, some of the best cardio there is, swimming. Just a few blocks from the pool you wonder "how many miles do I swim"? Granite Falls indoor pool is a 25 yard pool. 1 length is equal to 25 yards (one end of the pool to the other). One lap is 50 yards (down and back). 1 mile is approximately 1,650 yards, which is 66 lengths or 33 laps. Next time you're in the pool count your laps to see if you can reach a mile or more. Happy swimming!
January 2nd, 2018
Guest Blog by Granite Falls Personal Trainer, Josh Goguen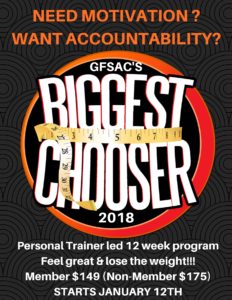 Good news, everyone! The Biggest Chooser Challenge is back for 2018 and better than ever. This year, we have more teams, more trainers and more time slots available to fit your schedule. We all have different reasons for putting fitness goals at the top of our 2018 to-do list, so why not give yourself an edge?
Maybe you have a reunion in the spring. You want to look your best because Debbie's going to be there (not you, Debbie- the other Debbie). She thought she was all that back in high school but you'll show her who's still got it.
Perhaps you have a particular bathing suit you've been eyeing for the summer and those selfies will be so satisfying knowing Debbie is totally going to be Facebook stalking you after the reunion.
You might even be one of those people that isn't concerned with appearance as much as just wanting to live a healthier lifestyle, unlike Debbie. She's so shallow.
Whatever your reasons are, The Biggest Chooser Challenge is here to help.
So, what exactly is The Biggest Chooser Challenge? It is a 12 week, team-based weight loss challenge to kick start your progress and set you up for success. Teams are based on workout and weigh-in availability with results being assessed on the percentage of total weight lost for the team. Something different this year from previous years, teams will be smaller allowing for a better trainer to client ratio than ever before.
When you join a Biggest Chooser team, you have access to a trainer, a small group fitness class once a week and measurement tracking, but that's not all. This friendly competition between our trainers and their teams will give you the intangibles that can make a huge difference. Being on a team will help increase motivation, build camaraderie, and create accountability.
But, the most important factor is FUN and this is going to be fun.
2018 is your year, not Debbie's. So why not give yourself every advantage possible? There are still Biggest Chooser Challenge spots open, so it's not too late (yet) to jump on board and set yourself up for success.