Archive for December, 2017
December 12th, 2017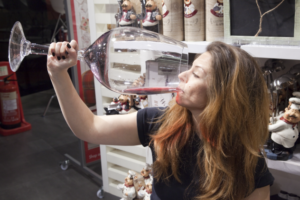 "Does wine actually have sugar?!" is a favorite question I get from clients. During this time of year when there are more celebrations and after work happy hours, it's easier to hibernate on the couch and sip wine because of the early onset of darkness. And yes, alcohol can absolutely interfere with any weight loss efforts. And during this season especially, it can add up quickly and promote an increase in body fat. Pick your indulgences wisely and on those occasions, give yourself a limit. If you want to linger with a drink in hand, opt-in for sparkling soda water with lime. And go for calorie-free mixers. At the end of the day, all alcohol counts, so sip slowly and consume water in-between drinks.
You are not alone. The average American gains 5-10 pounds over the Holiday season. If this includes you, never fear, the Personal Training team at GFSAC is here to help. Please join a team in the Biggest Chooser 2018 Competition. You will be motivated to shed those extra pounds packed on over the Holidays & held accountable on your path to a healthier, new you!!! Working in a group not for you?…We have 10 trainers on staff that are ready to push you with one on one sessions.
Psst… our GFSAC Training Gift certificates make awesome stocking stuffers. 😉 Stop by the Front Desk to purchase one.
December 5th, 2017
Ahhhh! Winter Break is right around the corner! A reprieve from dragging everyone out of bed, throwing a bowl of cereal their way, rushing them out the door and praying you'll make it on time. The same for the kids, too. When we think of Winter Break with our kids, we often wishfully think of blissful, sleeping-in mornings in our perfectly matched pajamas that turn into a smile-filled breakfast of warm, yummy French toast and perfect temperature coffee. Those beautiful mornings roll right into gorgeous afternoons of sunshine with just a bit of chill in the air. Kids are outside playing ever so nicely, Christmas music can be heard all day long, and cookies are being baked one after the other. Sounds amazing, right? Reality check. Most Winter Break days are NOT like that. Rather, something more like this.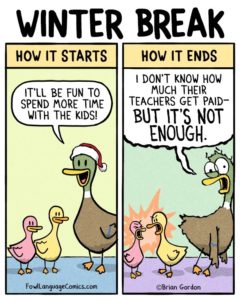 The reality is that life is still life, even if we change our routine a bit. While we may have this picture perfect image in our mind, as parents we have to remember that our kids are still our kids even with the change in routine that Winter Break brings. Your 10 year old boy who didn't want to get a haircut and only wants to wear pants with elastic waistbands will not magically wake up the first day of Winter Break ready to get his hair cut for all the holiday functions and be willing to try on, purchase, and freely wear a pair of pants that are a bit nicer for the ever important show off your family work party. So, moms and dads, give yourselves a break. Keep your expectations for Winter Break manageable and remember that your kids are kids and no matter how much we wish, plead, beg, cajole, bribe them to make Winter Break magical for us, it probably won't happen, at least not the picture perfect way we imagine it. No worries though…..if you need a break from the disappointment of it all, just send them to Camp at Granite Falls! If not, be prepared to say this (or something similar) over and over and over again: