Archive for October, 2017
October 17th, 2017
The costumes……so much decision making and money all for a one night event.
The anticipation……having to wait ALL. DAY. LONG. for the big event.
The struggle……wanting to have your kids involved with as much possible fun stuff as he/she can but knowing you HAVE to give time to yourself to get a workout in because, let's face it, once the kids are in bed, you are going to eat the good stuff. (Hello, Jimmy Kimmel!)
Traditional calendar teacher work day……no words needed.
We, in the KidZone, get it and are here to assist! Let us help you with it all– give that costume more than one use, nix the anticipation by providing a morning trick or treat session, solve the struggle by giving you what you need and the kids what they want, and take some of the teacher work day on a major kid holiday load off. Drop off your kids in the KidZone while you work out for trick or treating around the Club on Halloween day, Tuesday October 31. Along with trick or treating at 9:00, 10:00, and 11:00 we'll have Halloween themed crafts, games, and stories for all plus the kids will decide which KidZone staff has the best costume of 2017. Don't forget to have your child(ren) wear their costumes and bring their buckets/bags.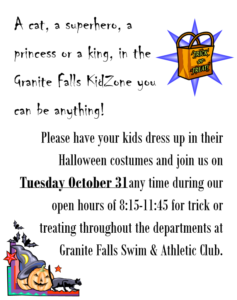 October 3rd, 2017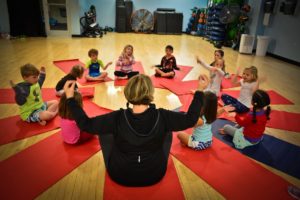 Does your child's daily schedule encourage physical fitness? Or is your kid stuck in a rut — perhaps even a school system — that leaves little time for exercise?
We often hear about exercise as a remedy for poor health and child obesity. But exercise for children is important for other reasons too.
Kids who are active will:
• boost brain growth and cognitive development
• have stronger muscles and bones
• have a leaner body
• be less likely to become overweight
• decrease the risk of developing type 2 diabetes
• lower blood pressure and blood cholesterol levels
• have a better outlook on life
• sleep better
• be better able to handle physical & emotional changes
At Granite Falls we believe in creating an environment where our kids can get the much-needed exercise and have a blast doing it!!! Best part is, all of these classes are included for FREE with your Granite Falls membership!
Please join in the fun!!!
MONDAY-  KidZ Fit 4:30p(ages 3-6) & 5:00p(ages 7-10)
TUESDAY- KidZ Funk 4:30p(ages 3-6) & 5:00p(ages 7-10)
WEDNESDAY-  KidZ Yoga 4:30p(ages 3-6) & 5:00p(ages 7-10)