Archive for April, 2017
April 13th, 2017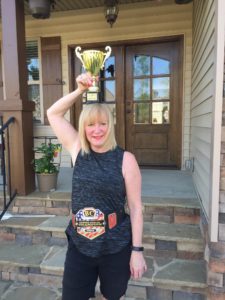 TEAM GREY with Trainer Sarah Roskilly Wins the Chooser Championship Belt!
People have a natural competitive nature. We crave to be challenged and desire victory. The Biggest Chooser 2017 Challenge was designed to appeal to that love of winning, but that wasn't the only positive outcome this season. The camaraderie and accountability each team fostered formed relationships and healthy habits that will continue well past the challenge's end date. Granite Falls Personal Training Team is beaming with pride at the success of all its participants. Together, we lost 1,248 pounds!!!! AMAZING JOB EVERYONE.
Special congratulations go to:
Overall Team Winner: Team Grey (Trainer Sarah Roskilly)
Overall Individual & Female Winner: Jenny Goguen (Team Turquoise, Trainer Janice Hirsch)
Overall Male Winner: Jonathan Gordan (Team Grey, Trainer Sarah Roskilly)
2nd Place Team Turquoise, Trainer Janice Hirsch), 3rd Place (Team Black, Trainer Phillip Williams),  4th Place(Team Pink, Trainer Heather Mills), & 5th Place(Team Orange, Aubrey Miller)
April 5th, 2017
"Julia" came in to the club the other day on a whim. She hadn't been here before, but has some friends that are members and had heard great things. She is a former sports enthusiast and has gone from rocking Bootcamp classes to having trouble maneuvering stairs. "Julia" is looking for a restart and she knows that this is the place that will get her there.
"John and Nancy" are a younger couple with two kids- a 3 year old and a 6 month old. They love swimming year-round and know that the kids are going to love the outdoor pool once that opens on May 20th. They are friends with a long-time Granite Falls employee and had only heard great things about the club. They toured the club and came back in the next night to sign-up!
"Sam" is a former member and now retired. He wants to get back into a fitness routine and wants to include his wife in the process. He was thrilled to be getting back told his old Granite Falls stomping ground.
Everyone walks through our doors for different reasons- the thing that I LOVE though, is that everyone leaves with a smile on their face. They know that they've made a decision that will benefit themselves and their family. They know that they will see old friends and make new ones. They know, if they go forward with the right mindset, they will see results…they will hit their goals (mini ones and the BIG ones!)
Thank you to everyone who given us a chance to prove that we can help you become a better you. I've experienced this for myself and, if you haven't experienced it yet, I would like to personally invite you to walk through our doors…